I'm Ready!
2013.10.24(Thu)
As I mentioned before, I'm supposed to have a Halloween party with my students and their friends this Saturday.
I had rescheduled my lessons for the party and I've been preparing for it.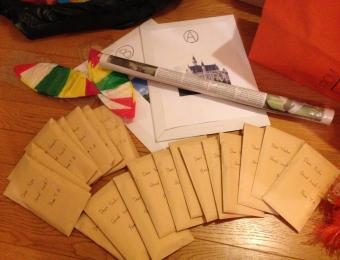 I had asked a guest who is from Germany to take part in our party. I prepared several games which would entertain all of them! The climax of my party this year is
" Mission Impossible"
I'll give missions to each student and they'll have to complete them within a limited time. ( The envelopes in the above pictures are their missions.) They need their knowledge they've learned in the lessons to complete them. hehe
Hey, Everybody! Let's turn on spirit!